Methi Aloo with Coconut

Print recipe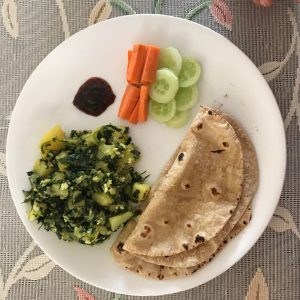 Ingredients
1 bunch Methi leaves (Fenugreek) (washed drained and finely chopped)
3 Medium Potatoes (Boiled and cubed)
1 Large Onion (Finely chopped)
3 cloves Garlic (Finely chopped or grated)
8-10 Curry Leaves
4 Green chillies (slit)
1/2 cup Grated Coconut
1/2 teaspoon Mustard Seeds
2 tablespoons Refined Oil
1/2 teaspoon Salt
1/2 teaspoon Turmeric Powder
Note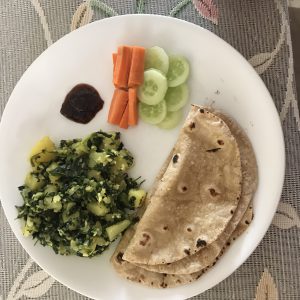 Directions
Step 1

Wash the Methi leaves (Fenugreek) thoroughly. to remove any mud particles.
Chop finely and keep aside.


Step 2

Peel and cut the boiled potatoes into small cubes.

Step 3

Heat oil in a pan and add the mustard seeds, once it splutters add the curry leaves, garlic and the green chillies. Saute for a few seconds, and then add the chopped onions.
Fry till it turns pinkish and then add the turmeric powder and salt.

Step 4

Next, add the potatoes and saute for some time, add in the fenugreek leaves and cook until done. Add the grated coconut and mix well.

Step 5

Serve immediately with soft phulkas.