It is Sunday and the inevitable question – what's for lunch? There was mutton in the freezer and that brought memories of Rajasthani Laal Mass we had while holidaying in Rajasthan. A search brought up this recipe. As usual, I tweaked it a bit..
Rajasthani Laal Maas

Print recipe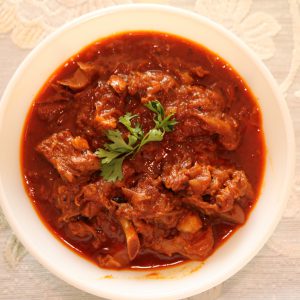 Ingredients
700g Mutton
2 Small Potatos
1.5 cups Curd/Yogurt
3 heaped tablespoons Kashmiri Chilli Powder
1 heaped tablespoon Corriander Powder
0.5 teaspoon Turmeric Powder
1 teaspoon Cumin Powder
800g Onions (Sliced thinly)
2 x 3 Cm Cinnamon stick
1 Medium Black Cardamom
2 tablespoons Ginger Garlic paste
5 tablespoons Ghee
Salt to taste
0.5 tablespoon Cloves
0.5 teaspoon Pepper corns
Directions
Step 1

Take curd, ginger garlic paste, chilli powder, turmeric powder, coriander powder, cumin powder in a bowl, mix well and set aside.

Step 2

Heat ghee in a pressure cooker, add in cinnamon, cloves, peppercorns and black cardamom. Add onions, salt and cook until golden brown.

Step 3
Add in mutton and mix well until it is seared. Add in the potatoes. Mix well.
Step 4

Add in curd mix and stir well till the colour darkens. Add some water.

Step 5

Add some water and mix well. Cover and pressure cook for 3 whistles. Then simmer the flame and cook for 15 mins. Turn off the heat and let it stand till the pressure is released.

Step 6
Serve with rice or rotis.