A regular preparation from Mangalore Spinach is a curry with Kudu (Horse gram). In another variation, dried shrimps are used in place of horse gram.  There were some tiny shrimps in the fridge and I thought why not use them instead.  The result was fabulous!
Mangalore Spinach and Shrimp Curry

Print recipe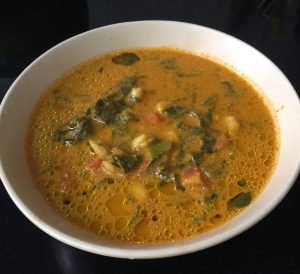 | | |
| --- | --- |
| Serves | 6-8 |
| Prep time | 15 minutes |
| Cook time | 45 minutes |
| Total time | 1 hour |
| Allergy | Shellfish |
| Meal type | Lunch |
| India | Indian |
The Mangalore Spinach can be also made by replacing Shrimps with either dried shrimps or kudu ( horse gram)
Ingredients
1/2 cup Tiny Shrimps (Cleaned & shelled)
1/2 Medium Coconut (Grated)
8-10 Medium Dry Chillies (40% Madras & 60% Byadgi Chillies)
1 teaspoon Corriander Seeds
1/4 teaspoon Jeera Seeds
1+1/4 teaspoon Mustard Seeds
1 pinch Methi Seeds (4-5 seeds)
6 Medium Garlic pods
1/4 teaspoon Turmeric
1/2 Medium Onion (chopped)
1 teaspoon Tamrind pulp
2 tablespoons Refined Oil
1 sprig Curry Leaves
Salt to taste
1 bunch Mangalore Spinach
1 Large Tomato (Chopped)
Directions
Preparation
Step 1

Separate the leaves from the stem of the spinach. Chop the leaves. Cut the stem into 2-inch length pieces.

Masala
Step 2

Grind the coconut, red chillies, coriander seeds, 1/4 teaspoon Jeera, 1/4 teaspoon mustard, Methi seeds, 2 flakes of garlic, turmeric, onion and tamarind to a fine paste. Keep aside.

Cooking
Step 3
Cook the stem of the spinach with a little water. Add the chopped spinach leaves and chopped tomatoes. Add salt to taste.
Step 4

After the vegetables are cooked, add the ground masala and boil for 10 to 15 minutes. Add the shrimps and cook for a minute.

Seasoning
Step 5

For the seasoning take a separate pan, heat oil and add Mustard. When it begins to splutter add the curry leaves and garlic. Pour this over the curry.

Step 6

Serve with steamed rice or parathas.