The overripe bananas in the basket set me thinking… Why not have Mangalore Buns for breakfast.
Mangalore Buns

Print recipe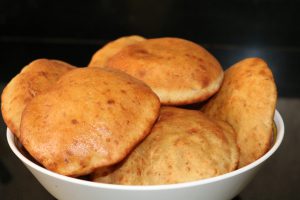 Ingredients
3 Medium Overripe Bananas (used small yellow ( Elaichi ) bananas)
3 tablespoons Sugar
1/4 cup Sour Curd
1/4 teaspoon Crushed Jeera
1 pinch Baking Soda
1 cup All purpose Flour (You may require more depending upon the bananas)
Oil for deep frying
1 pinch Salt
Optional
Directions
Step 1
Peel and cut Bananas into medium pieces and grind it along with the sugar.
Step 2
Mix baking soda and curd in a bowl and beat well.
Step 3
Mix together the banana mixture, crushed jeera, gram flour and all purpose flour. Gradually add the curd mixture and knead it to a soft dough.
Step 4

Keep it aside for 4-5 hours or preferably overnight to ferment.
Once fermented the dough is ready. Make small balls and roll out into thick puris.



Step 5

Heat oil in a frying pan and deep fry the buns until golden brown on both sides.