A specialty of Mangalorean cuisine, it finds its place on special occasions.
Chicken Curry with Crispy Rice Roti

Print recipe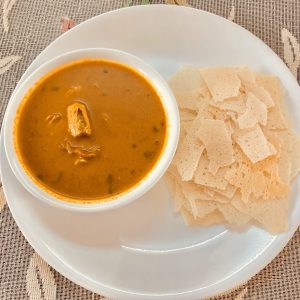 Ingredients
750g Chicken (Cleaned and cut into medium pieces)
1/2 Medium Coconut (Grated)
5-6 Medium Dry Red Chilli -Madras
9-10 Medium Dry Red Chilli -Bedgi
2 tablespoons Corriander Seeds
1/2 tablespoon Cumin Seeds
1/4 tablespoon Methi Seeds
1 teaspoon Pepper Corns
2 Medium Onions (Sliced)
1/2 teaspoon Turmeric Powder
5-6 cloves Garlic
1 piece Cinnamon
3-4 cloves Cloves
1 cup Thick Coconut Milk
1/4 cup Ghee
1 knob Tamrind (Lemon size Knob)
2 tablespoons Green Masala (Refer Green Masala recipe)
2 Medium Tomatoes (Chopped)
Note
This chicken curry can also be served with neer dosa, appam or rice.
Directions
Step 1
Roast Grated Coconut until light brown in color.

Dry roast coriander seeds, cumin seeds, methi seeds, cloves, cinnamon, pepper, red chilies and keep aside

Take a little ghee and fry half of the sliced onions and garlic.
Step 2

Grind all the roasted ingredients along with the fried onion and garlic, turmeric, tamarind to a smooth paste adding water if required.

Step 3

Heat the remaining ghee in a pan and saute the remaining sliced onions until light brown. Add tomatoes and cook for about 2 minutes on a slow flame. Add chicken and mix well. Add the green masala, salt and a little water. Cover and cook on a slow flame.

Step 4

When the chicken is half cooked, add the ground paste and half of the coconut milk and stir well. Cook till the chicken is done.

Step 5

Add the remaining coconut milk and cook for 2 to 3 minutes.

Step 6
Serve with crispy rice roti.