Sambhar is a necessary accompaniment to south Indian dishes. Be it Idlis, Medu Vada or even Steamed Rice.  This is the recipe I have often watched my grandmother make.
Sambhar

Print recipe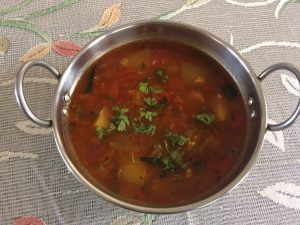 Ingredients
300g White Pumpkin
1 Medium Onion (Chopped)
2-3 Medium Green Chillies
2 Medium Tomatoes (Chopped)
1 tablespoon Tamarind Paste
2 tablespoons Sambhar Powder (*)
1/2 teaspoon Turmeric Powder
1 teaspoon Jaggery (Can be adjusted according to your preference)
1/4 cup Tur Dal (Split red gram also called split pigeon peas.)
1 handful Coriander Leaves (for garnish)
2 tablespoons Oil
1/2 teaspoon Rai (Mustard seeds)
2 sprigs Curry Leaves
2 Medium Dry Red Chillies
3-4 cloves Garlic (Crushed)
Note
* The recipe to make Sambhar Powder.
Directions
Step 1
Cook the Tur Dal in one cup of water in the pressure cooker. Keep aside.
Step 2
In a heavy bottomed vessel cook the White Pumpkin with 1 cup of water.

When 3/4th cooked, add Onions, Tomatoes and Green Chillies.
Step 3
Once the vegetables are cooked and Tamarind Paste, Sambhar Powder, Turmeric Powder, Jaggery and Salt to taste. Mix well.
Step 4
Add the cooked Tur Dal and 2 cups of water and bring to boil.

Cover and simmer for 2 to 3 minutes. Keep aside.
Seasoning
Step 5
For the tempering, heat the oil is a small pan. And add Mustard seeds. When the mustard seeds crackle, add Curry Leaves and crushed Garlic and saute for a few seconds.
Step 6
Pour the tempering over the Sambhar and mix well.
Step 7
Serve hot with Rice, Medu Vada or Idli