Due to lockdown, we have been avoiding buying fresh food. There was this urge to eat Parsi style chutney bread made by Theobroma. I had a very good recipe to make a bread loaf from a home baking course I had taken many moons back. I decided to adapt it to make the chutney bread. I made the chutney similar to the one used to make Parsi style baked fish in banana leaf. The end result was awesome!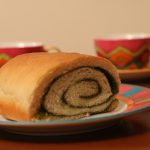 Print Recipe
Parsi Style Chutney Bread
Ingredients
250

grams

All Purpose Flour

7.5

grams

Salt

10

grams

Sugar

5

grams

Yeast

(Used Active Dry Yeast)

10

grams

Butter

190

ml

Water

1/2

cup

Green Chutney

See link below for the recipe
Instructions
In a bowl take 100 ml of lukewarm water add sugar and mix well. Add in the active dry yeast. Leave it in a warm place for about 10- 15 minutes to activate the yeast.

On a counter sieve the flour along with the salt and make a well in the centre. Add in the yeast solution and gradually add in the balance 90 ml water to form a soft smooth dough. Add in the butter and knead again. This will take approximately 12-15 minutes.

Transfer the dough into a large greased bowl and rest the dough for 45 minutes covered with a damp kitchen napkin. Keep it in a warm place to proof. It will double in size.

After the dough has risen, knock back the dough and knead again for a few minutes. Rest it again for another 30 minutes.

Place the dough on a counter and gently roll out into a rectangular sheet with the help of a greased rolling pin. Spread the green chutney over the sheet. Start rolling the sheet from one end till you reach the other end and have the dough in a cylindrical form. Seal in the edges.

Place the roll in the greased bread mould and keep it for proving for another 40- 45 minutes or till it has doubled in size.

Preheat the oven to 220 C. Brush the risen dough with some milk for a nice brown colour crust. Bake for about 30 – 40 minutes or till the top is golden brown in colour.

Once out of the oven brush the top with butter while it is still warm. Cool the bread for a minimum of 2 hours before you slice. Enjoy with a good spread of butter.
Here is the recipe for the chutney used in making this bread