I came across this recipe from Rekha Divekar on Instagram. Amla was in season and it looked simple and easy to make and thought I would give it a try. This was the first time I was making a pickle. Turned out to be very good. I used green chilies instead of red chili powder. It is one of the best ways to use Amla (Gooseberry) in your diet.
Amla Pickle (Indian Gooseberry Pickle)

Print recipe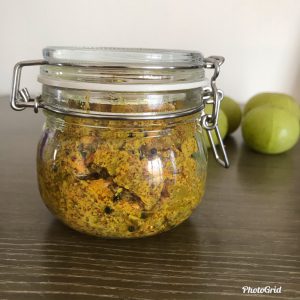 Ingredients
250g Amla (Gooseberry)
100g Ambe Haldi (Raw Turmeric)
1 Medium Lime
1/4 cup Mustard Seeds (Rai)
1/4 cup Sea Salt
2 teaspoons Jaggery Powder
3-4 Small Green Chillies (Slit it into 2)
1 teaspoon Turmeric powder
1/2 teaspoon Fenugreek seeds (Methi Seeds)
3-4 cloves Garlic (Chopped Finely)
1/4 tablespoon Asafoetida powder (Hing)
1/4 cup Oil
Directions
Step 1

In a pan boil water, switch off the flame. Now add in the amlas to the boiled water and keep it immersed for 10 - 12 minutes.


Step 2

Grind the mustard seeds to a fine powder. Fry the fenugreek seeds in a little oil and powder it.
Chop garlic and slit the green chillies.

Step 3

Heat oil in a small pan, add a tsp of mustard seeds, wait till it crackles, add the asafoetida and turmeric powder. Allow it to cool completely.

Step 4

Cut the amla and the raw turmeric into small pieces.

Step 5

In a mixing bowl add the amla, raw turmeric, garlic, jaggery powder, mustard powder, fenugreek powder, salt and the green chillies. Add in the juice of the lemon and mix well.

Step 6

Add the cooled tempering to the mixture. Mix well.

Step 7

Store it in an airtight glass bottle. The pickle will be ready to eat after two days.